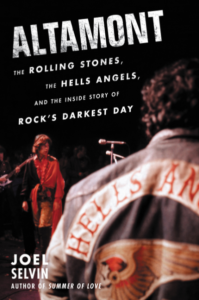 San Francisco's and Open Source's own music expert Joel Selvin's current book, Altamont, has found itself on the best seller list. Joel has written the definitive account of that dark day in rock's history. He explains how a murder could occur in front of 300,000 music fans, without any witnesses.
Joel's account of the events of that fated festival is riveting. The book takes us thru the preparation for the event to its conclusion with all the details only a newspaper man like Joel could smoke out.
Let's support Joel!!! Buy the book.
USA Today says: "Headlined by the Rolling Stones and managed, more or less — mostly less — by the Bay Area minions of the Grateful Dead, Altamont was something of an evil twin to the summer's momentous Woodstock festival in New York."
Check out all the great reviews:
http://www.rollingstone.com/music/features/why-altamont-was-doomed-w432536
http://www.usatoday.com/story/life/books/2016/08/20/altamont-the-rolling-stones-the-hells-angels-and-the-inside-story-of-rocks-darkest-day-book-review
http://www.houstonpress.com/music/inside-altamont-new-book-looks-back-at-rocks-darkest-day
https://ww2.kqed.org/forum/2016/08/17/joel-selvin-on-rocks-darkest-day
http://www.dailymail.co.uk/news/article-3735249/Inside-one-Rock-n-Roll-s-darkest-days-Altamont-concert-featured-Rolling-Stones-Grateful-Dead-saw-overdoses-Hells-Angels-brutality-murder-happened-Mick-Jagger-s-greed-new-book-claims
http://bestclassicbands.com/altamont-joel-selvin
http://www.santacruzsentinel.com/article/NE/20160817/FEATURES
http://www.sfchronicle.com/books/article/Prelude-to-Altamont-disaster-Stones-visions
http://www.sfgate.com/music/article/Taking-another-look-at-the-bloodshed-of-Altamont
http://www.usatoday.com/story/life/books/2016/08/20/altamont-the-rolling-stones-the-hells-angels-and-the-inside-story-of-rocks-darkest-day-book-review